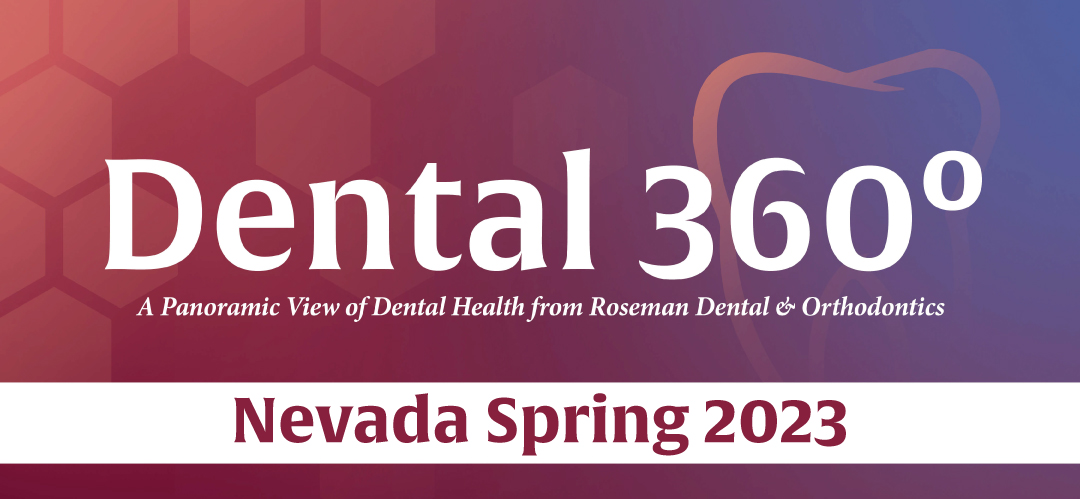 Spring has officially arrived, and we are excited that it's finally warming up! In this Spring issue of Dental 360°, you'll learn what to do if your child bumps their tooth and the importance of using mouthguards. You'll also read about dangerous dental TikTok trends, the effects of sports drinks and energy drinks on your teeth, and ways to prevent tooth and mouth injuries. In addition, we are excited about our Give Kids a Smile® event happening on April 28th, 2023 where children 17 and under will receive a free dental and ortho screening and fluoride treatment. There will also be face painting, outdoor games, Crumbl Cookies and a special visit from Flynn Rider and Rapunzel!
Roseman Dental & Orthodontics' Dental 360° is now a quarterly e-newsletter. Each quarter you'll receive a panoramic view of dental health. Dental health is key to your overall health and here at Roseman Dental & Orthodontics, we are dedicated to improving not only your mouth, but your whole self. At our clinic we have an excellent team of licensed dentists, orthodontists, orthodontic residents – 30 to be exact, and dental residents all focused on you and your family's oral health. Roseman Dental & Orthodontics has been serving its community since 2009 and is a comprehensive, one-stop shop for all your dental needs including dental, pediatric, orthodontic and craniofacial cleft lip & palate treatment.
We hope you find Dental 360° helpful and informative. We look forward to connecting with you each month.
Dental 360° Spring Articles
My child bumped their tooth – what do I do now?
Summer Safety: Watch Your Mouth!
Dangerous Dental TikTok Trends
Effects of Sports Drinks & Energy Drinks on Our Teeth
Preventing Tooth and Mouth Injuries
Give Kids a Smile® Event