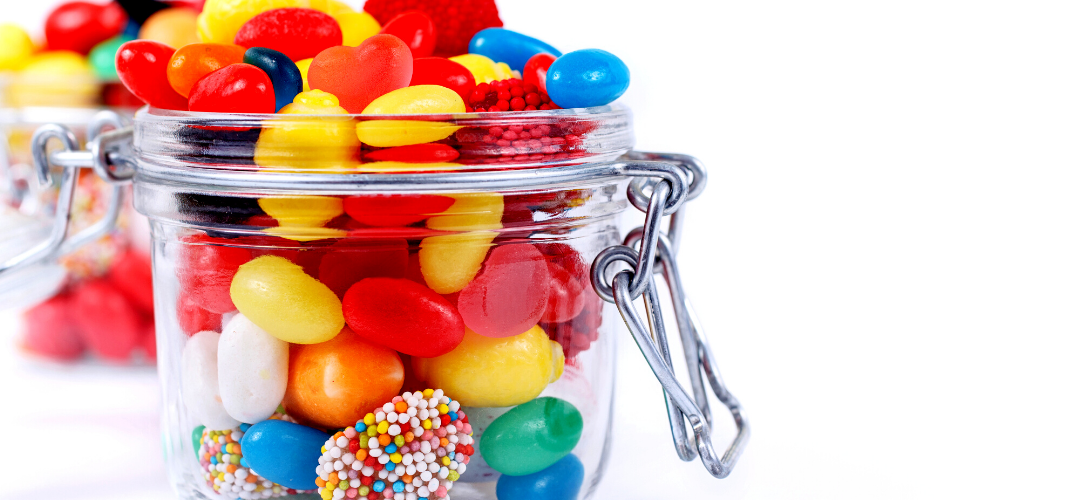 We've all most likely been there – indulging in a box of Milk Duds® or bag of popcorn at the movie theatre and then all of the sudden you're scrounging around your teeth with your tongue trying to get every little piece out from between your teeth. It's a known fact – food gets stuck in teeth! Here is a list of the top five foods that cause a sticky situation and what to do about it:
Chewy Candy
Chewy candy such as jellybeans, taffy, caramels, or gummy bears make for an extremely sticky situation. The stickier the candy, the worse it tends to be for your teeth. A triple whammy of negatives – chewy, sugary, and acidic – these candies, especially the "sour" varieties, tend to stick to and between teeth for long periods of time. When this occurs, bacteria easily feast on the deposited sugar to make acid which dissolves the protective layer of teeth and in turn causes cavities.
Hard Candy
From Jolly Ranchers® to lollipops, hard candies tend to cling to teeth. When hard candy clings to teeth it dissolves slowly and saturates the mouth for several minutes at a time. When this occurs, bacteria have more time to produce harmful acid which can cause decay over time. Many varieties of hard candy are flavored with citric acid. Citric acid is a known culprit of tooth enamel erosion. Additionally, if you bite down with force on some hard candies, you may chip your teeth which leads to an even stickier situation.
Seeds
Seeds come in a variety of forms – from sunflower seeds to the tiny seeds on a bagel. Often times these types of seeds can wedge between your teeth and under your gums, and may feel impossible to remove. Additionally, many healthy treats have seeds that could present challenges as well. Raspberries and blackberries have small seeds that can become stuck between teeth or in the anatomical crown (top part) of your teeth.
Popcorn
Whether you like popcorn with or without butter, having a popcorn shell stuck in between your teeth or even your gums can cause irritation and frustration. If the shell isn't removed from between your teeth or gumline, it could lead to an abscess.
Potato Chips
It may be hard to deny the satisfying crunch and savory flavor of a potato chip, but this light and crunchy snack becomes a gooey substance when chewed that easily gets stuck in your teeth. Additionally, potato chips are full of starch that feeds the plaque inside your mouth.
Tips and Tricks for Sticky Situations
It's hard to avoid sticky foods all together, but it's important to avoid the urge to use your fingernails, tongue, or other sharp objects to remove stuck food particles. Doing this could cause harm to your teeth, gums, and tongue. Try these useful tricks instead:
Keep floss handy and use it often.
Swish water around your mouth to loosen food particles.
Chew sugar-free gum to help unstick stubborn food pieces.
Contact your dentist if you're having difficulty
Causes of Food Getting Stuck in Your Teeth
If you seem to get food stuck in your teeth frequently, it may be cause for concern. The following causes may be the culprit:
A gap or space between your teeth
Possible cavity is present
If you're struggling with food debris getting lodged in your teeth or gums, it's important to schedule an appointment with your dentist. The dentist will be able to rule out possible culprits or provide treatment if necessary.
Roseman Dental is committed to providing outstanding, affordable dental and orthodontic care. Contact Roseman Dental to request a dental examination or free orthodontic screening (Nevada location only) and consultation today!