It's that time of year again, when everyone starts thinking about how they will improve themselves or their situations in the next year. If you're like the majority of the population, you've set a New Year's resolution to get in shape and eat healthier this year. While most people set this resolution as a way to lose weight, did you know eating a healthy diet is also one of the best things you can do for your oral health?
The Effects of Poor Nutrition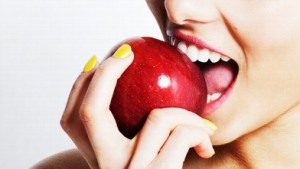 An unhealthy diet affects the body in lots of different ways. It increases the risk of chronic illness such as diabetes, heart disease, and cancer, and weakens your immune system. These chronic illnesses and a weak immune system also increase the chances of developing gingivitis, gum disease, and other oral health complications.
Since the mouth is the first point of contact for food and drinks, sugary treats and drinks can also increase the risk of developing cavities and gum disease. Regularly eating unhealthy foods can cause inflammation or chronic conditions that contribute to poor health overall.
On the flip side, eating healthy foods that are high in vitamins and minerals, such as fruits and vegetables, can improve your immune system and protect your mouth from disease. According to the American Dental Association, studies show a correlation between people who have lost teeth or wear dentures and those who don't eat as many fruits or vegetables or tend to have less nutritious overall eating habits.
Partner with your Dentist
The mouth is one of the first places where signs of a poor diet are detectable. Your dentist is one of the best resources to help keep your mouth healthy and identify tips for healthy eating. A great way to begin your "healthy diet" New Year's Resolution is with a visit to your dentist. Go for a cleaning and check-up, and ask your dentist to help you identify ways you can improve your diet to improve your oral health.
Scheduling regular cleanings and check-ups with your dentist at the recommended six-month intervals can also keep you accountable all year for your resolution to eat healthy. The Dental Clinic at Roseman University offers affordable dental care in the Salt Lake valley for people who don't have a dentist or for those who are under or uninsured.
For tips on what to eat, MyPlate from the Center for Nutrition Policy and Promotion at the U.S. Department of Agriculture can help you plan a balanced diet consisting of fruits and vegetable, whole grains, low-fat dairy, and lean protein.
This year, make a resolution to eat healthier, and develop a plan to follow through. Your body, and your mouth, will thank you.