Roseman University welcomes Dr. Matthew Thacker as the new Program Director for the Advanced Education in General Dentistry residency in Henderson, Nevada and AEGD Clinic Director.  After earning his bachelor's degree in Biology with a concentration in Integrative Physiology from UNLV, he attended UNLV's School of Dental Medicine and received his Doctorate in Dental Medicine (DMD) degree in 2018. After graduating dental school, Dr. Thacker served in the U.S. Navy as a Fleet Marine Force dental officer for four years aboard the Marine Corps Air Ground Combat Center in 29 Palms, California. He continues to serve the Las Vegas Valley community as a volunteer dentist for the Special Olympics, Give Kids a Smile®, and UNLV's Sgt. Ferrin Memorial Veteran's Clinic. He is passionate about providing a broad scope of evidence-based dental care to the community and is dedicated to training the next generation of dentists to be skilled, compassionate, and service-based healthcare providers.  Dr. Thacker is a member of the American Dental Education Association, Nevada Dental Association, Southern Nevada Dental Society, and is a Fellow of the Academy of General Dentistry.
Dr. Thacker brings to his work a team-based approach to problem solving, an inordinate amount of energy, and a genuine desire to serve our Nevada community with empathy and respect.  While serving in the military was something he may not have expected as a child, he enjoyed his time serving and caring for the young service men and women coming up through the ranks. It also seems that the four attributes of the US Navy – initiative, accountability, integrity and toughness — are traits he embodies even now moving out of active service.  Dr. Thacker has attacked his new role with focused initiative, and a data-driven approach.  With his combined role of teaching, practicing and running the day-to-day operations of the clinic, his job is not for the faint of heart. He bears multiple responsibilities and must also work with staff across Roseman Dental & Orthodontics dental clinic, with his colleagues in the ortho clinic of Roseman Dental & Orthodontics, with Roseman Dental – Summerlin, and across campus and state lines alongside our South Jordan, UT clinic and faculty.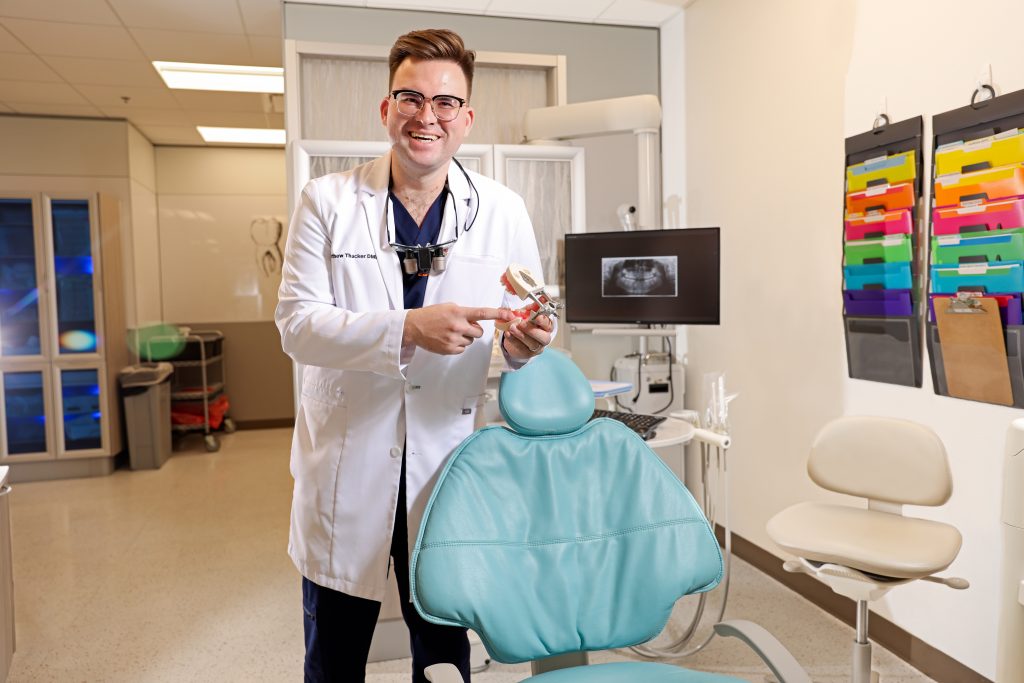 Despite this workload and an intense focus, what most people also immediately see in Dr. Thacker is an easygoing kindness and affability.  Dr. Alice Chen, Roseman's new pediatric dentist at Roseman Dental & Orthodontics, says, "Dr. Thacker works with his team with the utmost respect and kindness, he empowers us and brings a level of positivity to everything he does."  While Dr. Thacker has youth on his side, he imparts a wisdom and calm that seems befitting of someone much older.
Excited to be back serving his local community, and the community in which he was born and raised, Dr. Thacker reflects on his younger years as a kid bowling at the Henderson bowling alley and getting pizza with his friends at the local pizza place.  "It is so nice to be back in Nevada, where I grew up, serving our community and to continue the incredible work of Roseman University."
Dr. Thacker had always known of Roseman's dental programs and was intrigued by Roseman's Six-Point Mastery Learning Model®. He'd even attended some of Roseman's online Neighborhood Health Series events during COVID while stationed in California. With a confluence of factors occurring at just the right time to bring him to Roseman, Dr. Thacker is breathing new life and energy into our beautiful state-of-the art clinic. Dr. Thacker reports that the clinic is very busy, and is seeing many patients for routine and more significant dental work. In late August, a new hygienist will join his team and allow for more patients to be seen.
In his free time, Dr. Thacker and his wife, Dr. Angelica Jane Bustos-Thacker, also a dentist, play with their two dogs, Puka and Boba. Dr. Thacker also enjoys playing ice hockey, graphic design, computer coding, traveling and is an avid woodworker.  Welcome Dr. Thacker!