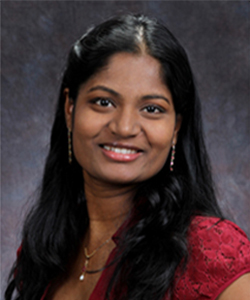 Prashanti Bollu, MBA, MS, DMD
Program Director, Associate Professor of Dental Medicine, AEODO/MBA Program
Dr. Prashanti Bollu received dental school training from Boston University School of Dental Medicine. She holds a Master's degree in Health Care Administration as well as a Master's in Business Administration. Part of the inaugural class, Dr. Bollu received her orthodontic training from the Roseman University of Health Sciences.
Dr. Bollu has received several awards for outstanding academic achievements during her undergraduate and graduate training. Her interest in research was sparked early in dental school and strengthened further during her employment at Boston University during which time she worked with many prominent researchers. She has been involved in several research projects and presented multiple posters at national conferences. Dr. Bollu has been recognized by DENTSPLY and Sigma Xi, The Scientific Research Society, for outstanding research.
Besides serving as a clinical and teaching faculty, Dr. Bollu was actively involved in growing the research component of the Advanced Education in Orthodontics & Dentofacial Orthopedics (AEODO) /MBA Residency Program. As Director of Dental Research for College of Dental Medicine (Henderson Campus), she facilitated all resident and faculty research endeavors. Her research interests include Cone Beam Computed Tomography (CBCT), practice management issues, orthodontic insurance coverage gaps and access to orthodontic care.
Currently, Dr. Prashanti Bollu serves as the Interim Program Director for the AEODO/MBA residency program. She also practices in a few private orthodontic offices in the Las Vegas area. Dr. Bollu is a Board Certified Orthodontist and has active professional affiliations with multiple national and regional dental/orthodontic associations including American Association of Orthodontics, Pacific Coast Society of Orthodontists, and Southern Nevada Dental Society. She has also been a member of the International Association of Dental Research as well as the American Association of Dental Research.