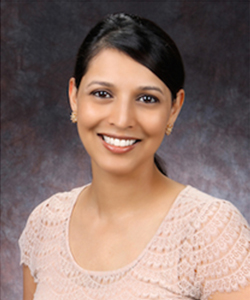 Jahnavi Rao, DDS
Clinical Professor of Dental Medicine
Dr. Jahnavi Rao received her DDS with honors from University of California, San Francisco School of Dentistry. She continued her education and clinical training at The Ohio State University where she received her Certificate in Orthodontics and Master of Science. Her research evaluated bone remodeling around miniscrews and has been published in textbooks and citied in numerous journals. Dr. Rao received several awards for outstanding academic achievements during her undergraduate and graduate training following which she moved to California and, then to Nevada to start her private practice.
Dr. Rao has been involved with education and teaching since 2007. Before joining Roseman University she was an Assistant Clinical Professor at the University of Nevada, Las Vegas (UNLV).  While at UNLV she directed graduate level courses for both orthodontic and pediatric residents and also trained undergraduate dental classes in orthodontic treatment planning. She has given educational presentations on auto transplantation of teeth, bone response to TADS's (temporary anchorage devices) and orthodontic practice management techniques at various dental schools.
Dr. Rao's national involvements include serving as the Nevada Spokesperson for the American Association of Orthodontists (AAO), Board Member, Products & Services Committee for the AAO, Chair, Pacific Coast Society of Orthodontists (PCSO) Southern Regional Division, Board Member, Reserve and Investment Committee (PCSO) and, Member of DSO Task Force for the American Association of Orthodontists.
She has also served on many Planning Committees for continuing education at the state, constituent and component levels for the American Association of Orthodontists (AAO) and, continues to be an active member of the AAO.
Additionally, Dr. Rao currently holds memberships in many national and international organizations including the American Association of Orthodontists, the Society of Educators, the Pacific Coast Society of Orthodontists, the World Federation of Orthodontists, and the Nevada Orthodontic Society.
Dr. Rao has been living in Las Vegas, Nevada for the past 8 years and spends a considerable amount of her time at her private practice. She has been recognized as one of "America's Top Dentists" by the Consumers' Research Council of America, multiple times. She was recently elected by her peers to become the President Elect for the Nevada Orthodontic Society (2015-2016) for a one year term, following which she will become the President of the society. Her personal interests include traveling to historic places, trying out different cuisines and spending time with friends and family.