Teaching your children the techniques for good oral health

A new ad campaign by the Partnership for Healthy Mouths, Healthy Lives and the Ad Council highlights all the things that kids will do for several minutes every day—everything from watching gerbils on YouTube (19 minutes) to dressing the dog up as a princess (11 minutes)—but often they don't spend the recommended 2 minutes, twice a day to brush their teeth. These simple 4 minutes are one of the easiest ways for a child to maintain good oral health, especially when combined with regular visits to the dentist.
Early Dental Decay in Children
Children in America, particularly those from lower income families, suffer from a significant amount of tooth decay. In fact since 1990, the National Institute of Dental and Craniofacial Research has noted an increase in the number of dental caries (cavities) in the baby teeth of children ages 2 to 11 years, with 42 percent of children in this age group experiencing untreated tooth decay. The damage doesn't end with baby teeth—studies also show that 21 percent of children ages 6 to 11 have cavities in their permanent teeth.
Untreated dental decay is the single most common chronic childhood disease, affecting about 17 million children every year. It often leads to pain, missed school days, increased emergency room visits, improper speech development, difficulty sleeping, and other developmental issues.
Fortunately there are things all parents can do that can help prevent childhood dental decay. One of the best things is to help children learn how to properly brush their teeth, and make sure they are brushing for two minutes at least twice a day.
The 2min2x Campaign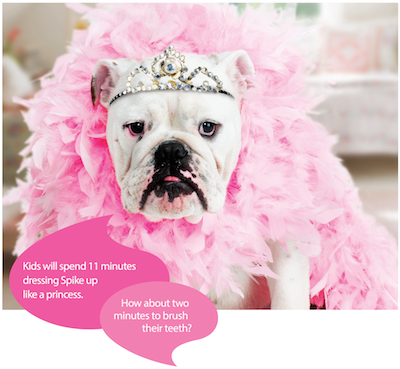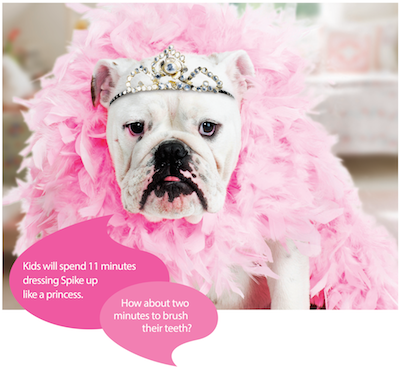 Knowing that properly brushing teeth can significantly improve childhood oral health, the Partnership for Healthy Mouths, Healthy Lives—a coalition of 36 organizations from the field of oral health—teamed up with the Ad Council to create the 2min2x campaign.
The goal of the campaign is to talk to parents about the importance of brushing children's teeth twice a day (usually morning and night) for the recommended 2 minutes each time. That's just 4 minutes out of a total of 1,440 minutes in every day, and those 4 minutes to improve oral health won't require much time or cost much money. The simple act of brushing teeth can help remove bacteria and plaque from tooth surfaces, which in turn can reduce the number of cavities in a child's teeth, and improve oral health and overall health. You can find information and resources about the campaign, including tips about oral health care for children of all ages, at the 2min2x campaign website.
Strategies for Preventing Dental Decay in Children
Here are some additional strategies parents can use to prevent childhood tooth decay:
Avoid giving infants and toddlers sugary liquids (milk, formula, fruit juice), especially around bedtime and naptime.
Only allow sugary drinks at mealtime (the increased saliva produced when eating can help wash away bacteria), and serve water between meals.
Feed children at least 5 servings of fruits and veggies each day and choose healthy, nutritious snacks. Find snack ideas at 2min2x.org.
Find fun ways to get the recommended 2 minutes of brushing, such as playing a song or video while your child is brushing, setting a timer, or getting a toothbrush that flashes for 2 minutes.
Supervise and help children brush to make sure teeth are properly cleaned, and ensure your child is not swallowing toothpaste.
Take your child to the dentist at least once a year, and preferably twice a year, beginning at 12 months of age so they can get a deep cleaning and the dentist can check for things like decay and cavities.
The simple act of brushing teeth twice a day is one of the most effective tools to fight tooth decay in children and adults. When it comes to your child's health, isn't it worth 4 minutes of your day?
For additional resources and to find an affordable dentist in the Salt Lake valley, call The Dental Clinic at Roseman University today at 801-878-1200.